The Long and Short of the JLT Reve de Sivola Long Walk Hurdle 2017
Described as "the stuff of dreams", trainer Jedd O'Keeffe has won this year's Long Walk Hurdle at Ascot with the northern raider Sam Spinner and jockey Joe Colliver. Having come from a handicap win at Haydock last time out, the five-year-old was a class of its own. Colliver outshone all other contestants, stripping even favourite Unowhatimeanharry, last year's winner with trainer Harry Fry.
This "landmark victory" was a first Grade One win for O'Keeffe, but one which was in the making before they stepped onto Ascot. Haydock defined Sam Spinner, putting the spotlight on the young five-year-old as the next promising runner. He was off a mark of 139 but as we could witness once again at Ascot, he is a natural front-runner and was strongest at the finish. At Haydock, the word on everyone's lips was just that; Sam Spinner has much to offer and Ascot promises to be an exciting race with endless possibilities for a surprise twist.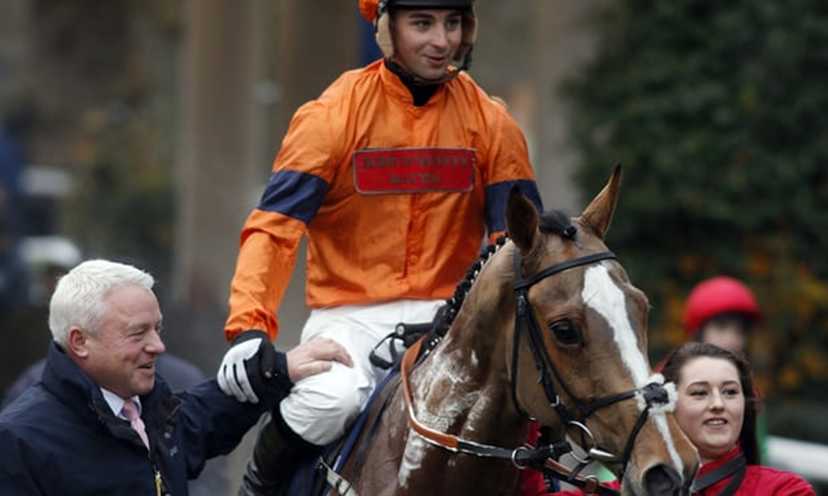 Source: The Guardian
An "underdog" in the making
The fact that the horse betting is renowned for its unceasing element to surprise at the last minute is no secret, which is why it is still so popular years after the first bet was taken. The underdogs have a way of shining on race day, out-performing the seasoned and perhaps elder runners. Naturally, betting on an underdog comes with its own risks but with a little foresight and a leap of faith, it can reap rewards which no other betting type yields. The odds for Sam Spinner, although more favourable after the Haydock performance, were still 9-2, a far cry from the 2016 winner Unowhatimeanharry who stood at 6-4 and l'Ami Serge at 5-1. This compounds our previous statement on horse betting: the underdogs always make the best winners.
A darker past scrubbed clean
The history of both trainer and jockey is not a happy one. Trainer Jedd O'Keeffe suffered from throat cancer in 2011 and consequently faced financial ruin. He found help in Sam Spinner's owners Paul and Caron Chapman and has since thrived on a small operation he established and used that time to fight his malignant illness. Joe Colliver's story is more one of redemption. The victory at Ascot marks a significant turning point for him who just 10 months previously had been in prison. On Boxing Day two years ago, Colliver was involved in a car crash with twice the legal limit of alcohol in his bloodstream. He subsequently offered a friend £2,500 to claim that he had been at the wheel. Lying about the circumstances of the crash earned him more than two months in jail. After being released, Colliver was determined to change his life around, intending to rebuild his career if given the chance. With the help of O'Keeffe, boss Micky Hammond and other staff and trainers at Middleham, Colliver made well on his promise. As it stands, both jockey and trainer are now betting favourites at the next Stayers' Hurdle at the Cheltenham Festival in March.
An exhilarating race
O'Keeffe could barely mask his joy at the win, explaining how Sam Spinner shot up in rankings from 136 at Chepstow and 139 at Haydock. Coming to Ascot to compete was in itself a challenge they decided to take, he explains, but one which has "paid off". Although O'Keeffe describes Spinner simply as "quite a nice horse", there is always room for improvement. "His jumping wasn't as slick as I've seen it. Hopefully we can tidy that up and we might get another pound or two of improvement," O'Keeffe went on, describing their new focus for the next race. Needless to say, Colliver was lost for words. From facing the end of his jockey career after being imprisoned less than a year ago, to winner at Ascot, Colliver has much to be thankful for. He describes his daze after the race and how Sam Spinner got better every time he rode him.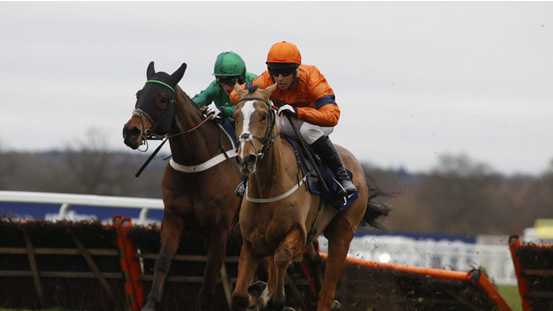 Source: Skysports
Colliver explains how Sam Spinner would race lazily and wait for someone to catch up with him to really show his mettle and kick on. In the first instant, it was Lil Rockerfeller who could be visibly seen weaken, following Unowhatimeanharry's struggle to remain ahead. L'Ami Serge put up quite a fight, prompting O'Keeffe to voice his concerns after the race that after all, the much-desired win would not happen. L'Ami Serge was a huge favourite to win the race at Ascot but proves once again that despite the ease with which he races, he is not an easy horse to win with. The last two flights were defining moments for Colliver and Sam Spinner, as the big leaps meant he could keep the pace he had gained thus far. Even L'Ami Serge, his one true opponent during the race, could not keep up. He ended up second with jockey DA Jacob while Unowhatimeanharry ended the race in third place.
A matter of skill and age.
Henderson, trainer to L'Ami Serge reflected on how credit is undoubtedly due to Sam Spinner who managed to pull the win off despite challenges against him. L'Ami Serge was nearly there, though it makes no difference once you're past the finish line. Henderson goes on to clarify that L'Ami Serge did not do any missteps. He did everything right and the ground, with it being of good quality, was also no excuse. It was a simple matter of not managing to get past the winner. L'Ami Serge is a 7-year old. Unowhatimeanharry on the other hand is a nine-year-old who found it extremely hard to compete against younger legs. As trainer Harry Fry rightly stated at the end of the race, "We have no excuses… we couldn't live with him." He adds the horse, which will be ten soon, probably needs more time between races and while Cleeve is still a possibility, trainer Harry Fry believes they will head straight to Stayers' Hurdle. His rival is, after all, four years his junior and in the racing world, that could be the difference between a spectacular win – and a humbler third place.
Ladies & gentlemen, we have a new favourite
From 25-1 odds to 5-1 for the Stayers' Hurdle at the Cheltenham Festival in March, O'Keeffe is chewing on the possibility of making this race their next target. The trainer added that there aren't a large number of options and given how Sam Spinner is an easy horse to keep fit, it is looking like more of a possibility. While we look forward to another exciting race, we wonder whether young, inexperienced but strong Sam Spinner can keep up with the required momentum.